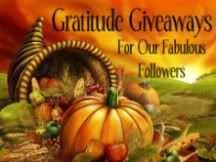 This Thanksgiving season, I have decided to take part in the
Gratitude Giveaways
hosted by
I Am a Reader, Not a Writer
. It's open November 17th through November 27th. It's all about books and our followers! Even though I'm a newbie, I thought having a follower appreciation giveaway as my first would be appropriate. Because without my followers, this little experiment would have crashed and burned a long time ago, and I would probably be a couch potato with only TV time to account for.
The goods:
So, being the OCD person that I am, I decided to give my giveaway a theme. I came up with "The First in a Series." Since it's my first giveaway and my first year as a blogger, I thought it was appropriate.
Beautiful Creatures - Kami Garcia and Margaret Stohl
Shiver - Maggie Stiefvater
The Body Finder - Kimberly Derting
The giveaway is open to US and International. I have given a couple of possible extra entries, but I didn't want to make it too complicated for my first giveaway. It is mandatory to be a follower (as it is a follower appreciation giveaway). Thanks to all of my followers and good luck!