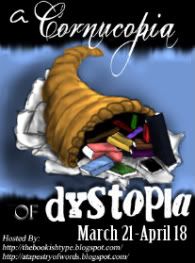 Hey everyone. As I was woke up obsenely early by my dog (who thinks he's my 0630 am alarm clock, every morning), I spent some time browsing through some great blog posts. I wanted to remind you guys about this awesome event and share some of my favorite posts so far.
The Cornicopia of Dystopia is hosted by A Tapestry of Words and The Bookish Type and features several upcoming dystopias that are being released. The event runs from March 21st to April 18th. There are like 17 blogs participating, and everything I've read so far looks incredible! They have author interviews, giveaways, reviews, etc. I have greatly been enjoying getting to know these authors as they share about their upcoming books.
Some of my favorite posts so far:
Author interview Megan McCafferty (Bumped) -
Books are a Girl's Best Friend
Author interview: Kate Kacvinsky (Awaken) -
Musings of a YA Reader
The entire schedule can be viewed
here
. And now that I've shared with you, I'm going to get lost in the world of dystopia again. Enjoy!